Hello, dears. It was recently brought to my attention that our original Meet The Mods post was seriously outdated, so we've edited it appropriately. Shiny new bios for all the current community maintainers are under the cut below.
bias_cut
(email)
is a twenty something biracial bon vivant fat high femme queer with plans to take over the world with her army of mixed race comrades. She stopped wearing pants about a year ago and has a somewhat troubling addiction to '60s era red, white, and blue polyester dresses. When not on Livejournal or shilling for
Re/Dress
and
Cupcake + Cuddlebunny
, you can find
bias_cut
working for social justice across movements on and off the job. She is also on the board of
NOLOSE
, is the fatshion and beauty correspondent over at
FemmeCast
, and blogs for
Fatshionista.com
from time to time.
bias_cut
is 5'4 and 1/2, wears a size 18/20 and loves Scrabble, road trips, fat girls in bikinis, and being a foodie wannabe.
idlepudding
(email)
is a 20 something year old a/Artist with a strong penchant for details and organization. she is something like a 14/16 with a heavy emphasis on the 16. she divides her time between long hours in a digital printing lab and long hours photographing the pa coal region. she also sews, make books, obsessively organizes her mp3 collection, cooks, and hordes beautiful old things.
idlepudding
is a shoe-collecting, book-loving, mac-owning, pants-wearing nerd with a incredible ability to accessorize and to kick ass. her work resides at
godshomemovies.org
.
misadventurelad
(email)
is a 31 year old fat chick that works a hardcore day job in the legal profession in lovely Seattle, Washington. She can be seen embracing her geektastic side during the cold, cold night. She writes fiction, parses issues of race and representation in popular culture and lives on a steady diet of nuance, comic books, occult research and science fact & fiction. She claims to be single but is often found in the company of a certain chef; cooking amazing vegetarian food while at it. She's got a degree in philosophy, an advanced degree in law, two dogs, a cat, a body full of tattoos, a pilates instructor and a reputation as a gymrat. At 6'0 tall she is a fatazon that wears sizes 22-30 and describes her style as rock-a-preppy (with divergences into glam-bohemian).
misadventurelad
also suggests not fucking with her because obviously, us mixed race people are taking your shit over. She grew up in the San Francisco bay area.
onceupon
(email)
blogs at
The Rotund
and is a freelance writer (it's good to get paid). She co-authored
Lessons From the Fatosphere: Quit Dieting and Declare a Truce with Your Body
. She also works to create art and jewelry pieces from repurposed materials. She has a B.A. in Creative Writing and never left her college town of Orlando, Florida where she is constantly negotiating the intersection of beach culture and fat culture. Her identifications tend to be flexible though she always identifies as fat and culturally white. She is 31, 5'4", and her current measurements are 55-49-61. Marianne reads books of all varieties, collects cephalopod-themed art, practices roller skating, and plans global domination.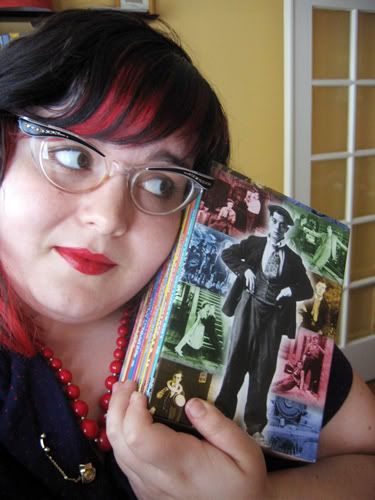 originalenid
(email)
originalenid (email) is a 26 year old reluctant psychology major living in San Francisco. Her dress size orbits around the number 26 and she is 5'1". As soon as she gets around to graduating she'll be focusing on film history from a feminist, queer, and social justice perspective. In the tradition of Mother Maybell and June Carter she plays and writes songs on an autoharp. She's the only person in her Argentinean family who was born in the United States. In her spare time she enjoys cultivating an imaginary romance with Buster Keaton.
paigenotpage
(email)
is a 31 year old, fat, black, curly-haired lesbian who lives in San Francisco. She works in the mental health field and chooses to unwind by chatting with friends, watching old sitcoms and singing angst ridden folk tunes in the shower. Her size 30 body is often dressed in neutral layers, distinctive eye glasses and comfortable shoes. She has overwhelming (and maybe unhealthy) attachments to her dying ibook, q-tips and Stockard Channing.
paigenotpage
began exploring fashion and fat identity when she lucked into a short internship at Mode Magazine in the 90s and credits fatshionista for prompting a deeper commitment to fat activism. In addition to size acceptance,
paigenotpage
spends time on advocacy around both child abuse prevention and LGBT aging.
sparkymonster
(email)
is a 34 year old geeky, mixed race (black and white), fat, queer, femme woman who lives in the Boston area. She usually wears a women's size 20 and adores mary jane style shoes. She brings her love of intersectionality to the organizations she is involved with. She is passionate about many forms of activism including fat acceptance gay rights, accessibility for people with disabilities, feminism, anti-racism, and transgender rights. She is also obsessed with her cat, sparkly things, retro dresses and piles of books. She enjoys torturing her loved ones by doing dramatic readings of poorly written fiction. She blogs sporadically at Fatshionista.com. Be careful,
sparkymonster
is part of the mixed race army that is in the process of taking over your shit. When not overthinking things,
sparkymonster
plots new and exciting ways to eat bacon.
stitchtowhere
(email)
is a size twentysomething twentysomething who's fat in (and at) the Canadian prairies. She blogs here on livejournal, and on
Fatshionista.com
under the same Smiths-inspired name. She has a B.A. Honours in English and is in the process of shipping her sizeable arse and wardrobe out to the westcoast to get her MA in publishing... or sprout fins and start a new life under the sea as a fat and fabulous mermaid; whichever comes first. She's committed to size acceptance, HAES, thrifting, wardrobe remixing, critical theory, poetry, and D, her partner of the last seven years (not necessarily in that order). Despite what the Horse People will tell you, she doesn't believe that tiny ponies are furniture but she is--owing to a particularly traumatic summer camp experience--convinced that donkeys are ten kinds of evil.
theoryofgravity
(email)
, who also responds to Lesley, has way more post-baccalaureate education than any sane person should require, and has been engaging with fat activism and social justice politics for over a decade. Lesley weighs something over 300 pounds, wears sizes 24 through 28, and is, among other things, 32 years old, white, femme, married, and owned by two cats. She digs Nina Simone, tea, Victorian cemeteries,
taking pictures
, subverting dominant culture via a cunning mixture of activism and fabulous dresses,
oversharing
, and referring to herself in the third person. Having narrowly escaped her hometown in South Florida at the tender age of 18, she currently works in higher education administration in Boston, lives in a condo on a beach, and administrates the
Fatshionista.com
website and blog on these here internets. Lesley wants to be an astronaut
and
a ballerina when she grows up.
----------------------------------------
----------------------------------------
---------
And here are some other useful links:
fatshionista
has moderated posting - the guidelines are
here
. If your post is rejected, it is nothing against you personally, a mod has simply decided it did not meet the posting criteria. Rejected posts will always include an explanation in the notification email LJ sends you. You are also encouraged to email the mods at ljmods at fatshionista dot com with any questions and we will do our best to get back to you once we've had a chance to communicate about your issue.
Coupon and promo codes are listed in the comments to
this post
. We recommend you use LJ's Message Center to track all comments to this post if you are interested in coupon codes. More info is available at the above link.
Sales posts are only approved on Fridays. Sales posts are also subject to certain formatting rules; do yourself a favor and familiarize yourself with the required post format BEFORE submitting your sales post, and you will save yourself a lot of post-editing aggravation. More information is available
here
.
We have a post where feedback can be left for Friday-sales transactions; it's
here
. The community moderators take no responsibility for sales posts gone awry, so you always buy at your own risk, but the feedback post offers a venue to share both good and bad experiences with other members.
This and all the other important rules (including helpful tips on how to get banned) are also explained on the
community info page
, which I strongly encourage everyone to read before posting or commenting.